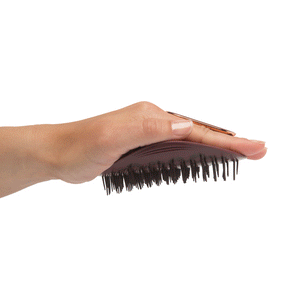 Manta Hairbrush Black
Regular price
£30.00
Ultra-gentle for minimum hair breakage and maximum shine. Manta Healthy Hair Brush is suitable for all hair types including fine, fragile, thick, curls, coils, children, men, women, and hair extension wearers.

Manta was created to glide responsively through your hair using a specialist soft-touch material which means no rough edges to catch or tear the hair shaft.

The patented Flexguard technology means each bristle has complete 360 motions to gently free knots. This continuous motion means your hair never reaches the stress point where it breaks meaning longer, healthier, shinier hair. The more you bend your Manta the more it flexes, hugging the contours of your head massaging the scalp to encourage hair growth, detangling quickly and effectively.
Use on wet or dry hair with an easy to use non-slip grip. Manta is made with a soft touch rubber compound that means there are no rough edges or joins to catch, tear or trap your hair
Hairdresser, Entrepreneur and Inventor Tim Binnington created MANTA® for his wife, Dani, who lost her hair as a result of a life threatening illness. As it grew back, he watched her combing it with her fingers, too scared of breakage to use a traditional hairbrush. During her journey back to health, Dani started to blog about her experiences. As more and more people contacted her to share their own personal stories — whether the side-effects of cancer or simply wanting to find solutions for their own lifestyle and beauty challenges — Tim realised that there was nothing available which truly protected the needs of brittle, fragile and damaged hair, whatever the cause. Combining more than 30 years of hands-on experience in professional hair salons with the latest materials and technology available, Tim spent more than 5 years designing, developing and perfecting the MANTA® - a brush that is as gentle on your hair as running your fingers through it! The vision? To give everyone the confidence to care for their hair without damage or breakage. A brush as gentle as using fingertips — the new self-care ritual in hair

Key Benefits:

Ultra-gentle: Minimum breakage, maximum shine
Suitable for all hair types and hair extensions
The more you bend it, the more it flexes
Use on wet or dry hair
Non-slip grip
Anti-static and heat-resistant up to 80c
Cardboard box is recyclable
Handy travel pouch to store your brush in
100% of the profits from this product goes towards helping us provide physical, financial and emotional support to people with Cancer, allowing them to live life as fully as they can.
Whatever the occasion, GoodPost it.
Price includes named day delivery.
All profits help us to provide physical, emotional and financial support.